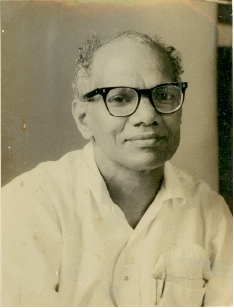 Sundarayya Vignana Kendram was commissioned in the year 1988. It is managed by a registered Non-Profit-Trust. It is maintained by Public Donations, which are exempted from income-tax under Section 80 G of Indian Income Tax Act. While the land was donated by the Government of Andhra Pradesh, the existing building was constructed with the public contributions made in the form of donations.The Trust expanded its activities with the construction of a New Library, Cultural and Research Center at Gachibowli, in a four acre plot.
The old Sundarayya Vignana Kendram at Bagh lingampally consists of a Reading Room, a Research Library, a Seminar Hall (150 seats), a 450 seat centrally cooled Auditorium and Guest rooms for Research Scholars.In the first Decade of the present century we were on a mission of collecting and preserving the legacy of print culuture. revival of local libraries and creation of digital images for printed materials in all south indian languages.
The new Building at Gachibowli  houses the basic archival collections and reference library along with the digital book databases. The new Sundarayya Vignana Kendram has a state of the art air-conditioned 250 seats Convention Hall, 60 seats Board Room, Art Gallery, Sodhana (Koratala Memorial Research Center), and a Book Restoration section. It has a massive Open Plaza along with an Amphitheatre. It also hosts facilities for sports training, film making and animation coaching.
research library
As part of the first phase of the activities, the Sundarayya Vignana Kendram has started a specialized Research Library. It has a rich collection of rare books, journals, newspapers, reports, pamphlets, manuscripts, private papers, etc., in different languages. The collection is particularly rich in Urdu, Telugu and English languages, throwing light on the socio - cultural, economic and political histories and popular movements of all types that took place after 12th century. The entire collection of 250,000 printed books, journals and manuscripts in Telugu, Urdu and English languages are now housed in the new center at Gachibowli.
Most of the collection we received are in the form of book donations. wellknown writers, professors, lawyers, social and political activists and other book lovers donated their entire collections.Chicago university purchased 30 thosand rare collectio of urdu magazines and books published before 1950. after taking digital copies, the entire collection was donated to SVK Library. Another important english collection consisting of 90 thousand books came from Kansas city library U.S.A.
   In Telugu more than 70% of the material pertains to language litarature and social sciences. There are Vedas, Upanishades, Dharmasastras, Ithehasas, Puranas and prabhodas. For example, There are more than twenty types of Ramayanas written by different authors. There are complete series of many Telugu Journals.
    But rare litarature is more in urdu. In this we find biographies of prophets, Nazams, Masnavis, innumerable number of Dastans, Couplets written in Nizam's own  hand writing, paintings, firmanahs of rulers of Nizam and Aurangezeeb, complete collections of writings of Iqbal and Galib, Many old reports and complete series of urdu journals and first women's journal in urdu published in India. After seeing this collection a BBC reporter commented "Such a Rich collection of Rare Urdu literature, we find no where in the world".                
Sundarayya Vignana Kendram has been involved in various not-for-profit activities including book restoration. We have undertaken a microfilming, digitalization and restoration project which is the only one of it's kind in the world, with the help of a 'Thermal Vacuum Freeze Dryer' hired from canada for six months to restore more than 1,50,000 flood dam-aged books and manuscripts. The SVK has also been awarded grants under the Endangered archives Program from the British Library, London, for repair, restoration, digitalisation and microfilming of pre -1947 Telugu print culture in India. Our institution got funds from Ford Foundation also for creating OCLC records with trained staff.